Beautiful places in Costa Brava: Tossa de Mar
Located in Girona province, Tossa de Mar is only a ninety-minute drive from Barcelona. This city is worth a visit both for its wonderful natural landscapes and its cultural heritage.
Tossa de Mar
1. Nature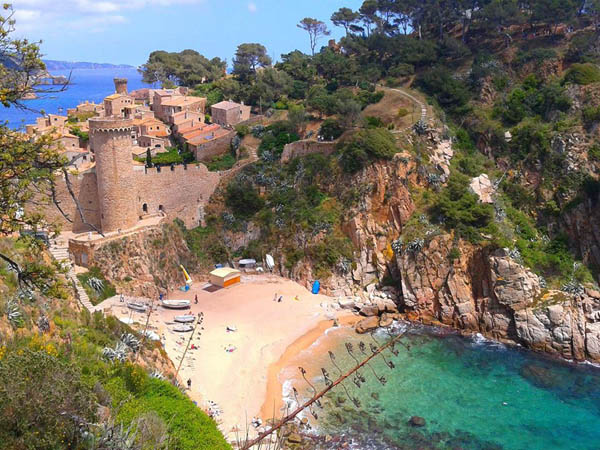 The Cadiretes Massif is a mountainous wildlife reserve located on the coast. Despite the rivers drying up in summer, it hosts Mediterranean and central European species thanks to the various water springs, which make it remarkably interesting on an ecological point of view. The coast is highly steep and hosts some rare species.
Sa Riera Park is a green public space stretching along Tossa River. It is the ideal place to go for a walk with your family while being surrounded by Mediterranean vegetation, including a few centenarian trees. You can sit on one of the benches or at a table to enjoy a picnic, or maintain yourself using the sport track or the health equipment.
2. Culture
Vila Vella, or the Old Town, is the only fortified medieval town still standing on the Catalan coast thanks to the various restoration works it received during the XXth century. It was built during the XIIIth century. There are about eighty houses inside, and some are still inhabited. The ramparts protected the town, especially during the XVIth century, when pirates would attack the Spanish coast.
The Can Magí Tower, also known as the Moors Tower is one of the watch towers constructed under the reign of Philip II during the XVIth century to prevent attacks coming from the Moors. Watchmen were constantly posted on these towers to send a signal in case of incursion in order to enable the people to take refuge within the city walls.
Casa Sans is a house created by the architect Antoni de Falguera with modernist and colonial influences: modernist gargoyles representing the seasons, mosaics, and wrought iron. An amazing and unusual house facing the sea.
Remains from prehistory and Roman period, such as ceramics, coins, marble sculptures, or fibulæ (Roman brooches) were found around the city and can now be seen in Tossa Municipal Museum. You can admire the ruins of the Roman villa called Dels Atmetllers with its thermæ among others.
There are many other fascinating places in and around Tossa de Mar, and it is truly ideal to satisfy your curiosity about History, architecture and nature. Moreover, the town and the landscapes are amazing, so you can also simply relax and enjoy the beauty of the place.